A few months after Statesville pastor Jeff Luxon began experiencing severe lower back pain extending to his hip, the sciatic pain spread down his leg and he began feeling numbness in his toes.
With trouble walking and bending, Jeff tried pain management treatment and received four epidurals — nothing helped. When he began enduring sleepless nights, he knew he needed to act.
"It was really painful, really hard to function," he said. "My wife realized that we couldn't do our normal activities."
After viewing MRI results, Jeff's family care physician counseled with him about surgery and suggested he visit Peter Miller, a neurosurgeon at the Iredell NeuroSpine Center.
Miller's office contacted Jeff the next day, and a day later he was in the neurosurgeon's office. When an MRI scan showed the source of the pain to be two ruptured disks, Jeff knew he was in the right place for treatment.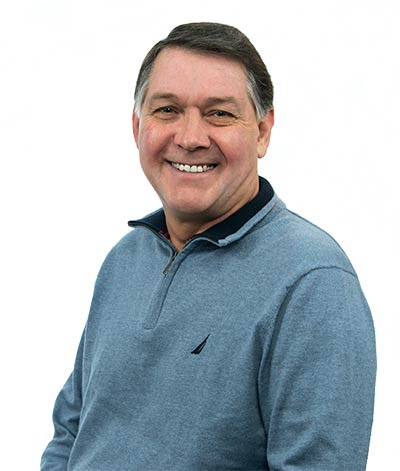 "He's going to be straightforward with you," Jeff said of Miller. "I want someone to be honest with me and give it to me straight. They're not going to do anything unless it's necessary."
Some of Jeff's acquaintances questioned his decision, voicing to him their perception of back surgery: "People were saying, 'Don't have back surgery! You'll never be the same again,'" he recalls.
Jeff underwent the surgery at Iredell Memorial's Same Day Surgery Center. After awaking from the two-hour surgery, his sciatic pain was gone. Miller immediately began counseling him on the healing process, telling him what he should be careful doing.
As he heals, Jeff is back to being the energetic person he's always been. An active gardener, Jeff is now mowing his yard again. He can bag leaves, change faucets underneath the sink, and perform tasks he used to take for granted.
"It's been tremendous the relief that I've got," he said.
Jeff describes himself being 90 percent back to normal and, in continual contact with Miller, is on his way to full recovery. The neurosurgeon assures him that soon, he'll be back to playing golf.
"I would highly recommend Dr. Peter Miller to anybody that has any back issues," he said. "The folks there really treat you well. We're blessed in our community to have them."
As Jeff ministers to church members, he visits many elderly people living with pain. After experiencing severe back pain himself, Jeff better understands the discouragement people can have struggling to move.
"You don't mean to be irritable," he said. "But when you're in constant pain, you go to bed in pain, you wake up sometimes every hour. Then when you finally do wake up in the morning, you're not rested well. So, I would encourage people that may have a loved one that's experiencing chronic pain to be a little more gracious with how you deal with them."
He appreciates Iredell Health System for the treatments it provides.
"It makes you appreciate life and every day that you're healthy," he said. "It just helps you to be more grateful for those that have been able to give you that care and have that knowledge to be able to do those types of surgeries."
While some church members he ministers to are forced to live with chronic pain, Jeff encourages them to see what conditions Iredell Health System professionals can treat.
"For those that are hesitant, that may be putting something off, I recommend that they consult with one of the Iredell Health System doctors and receive treatment," he said. "It's not fun living with pain."
For anybody with chronic back pain that may need spinal treatment, Jeff suggests consulting with Miller:
"You can put your trust in knowing that he's confident in his abilities and that he will give you the best care possible," he said.