Nine years ago, Trae Johnson of Statesville was born three weeks premature with underdeveloped lungs. He needed help breathing and was immediately taken to a NICU, where he stayed for two weeks.
As he grew, Trae continued to suffer from breathing issues. As a two-year-old, he was hospitalized at Iredell Memorial Hospital for two nights where he was on oxygen for most of his stay. A few years later, he was diagnosed with asthma and began asthma treatment.
One day in early 2019, Trae felt especially ill, and after receiving medical attention learned he had the flu, pneumonia, and pleurisy. He left the doctor's office wearing a nasal cannula while hooked to an oxygen tank with orders to be admitted to the hospital.
When Trae's mom told him they were going to stay at Iredell Memorial Hospital for the night, Trae was worried to stay away from home in an unfamiliar place. He recalls talking with his mom on the ride to the hospital:
"I said, 'What if things are going to be scary?' And she said, 'Everything will be all right. It's a cool place.'"
As Trae and his mom walked slowly to the doors after arriving at the local hospital, Iredell Memorial security quickly ran to get Trae a wheelchair.
After a thorough intake, the first nurse had the task of figuring out how to get the 97-pound boy struggling to breathe to take eight small cups of medicine. Trae's mom was comforted by the familiar face – the nurse had watched Trae as a baby at a local daycare while putting herself through nursing school. Having been with Trae in daycare for almost three years and knowing of his love for Popsicles®, she overcame the challenge of getting him to take the unsavory steroids between intervals of enjoying the delight of a Popsicle®.
Handoffs between shifts were seamless as nurses cared for Trae, even the remedy for Popsicles® between steroid swallows.
One day during his hospital admission Trae was having particular trouble. It hurt Trae to breathe, and he was repeatedly coughing. His breathing became so shallow it prevented the nebulizer from delivering medicine into his lungs.
That's when his dad and a respiratory therapist suggested a breathing technique that Trae continues to use effectively:
"Can you breathe like the Hulk?" BJ Johnson asked his son.
While raising his arms above his shoulders, Trae deeply breathes in… before lowering his arms and flexing like the Hulk while breathing out…
The technique allowed the medicine to get deep into Trae's lungs to break up the mucus and diminish the bronchitis.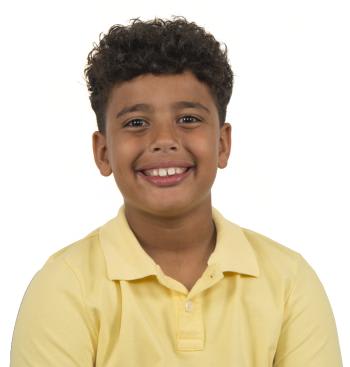 Iredell Memorial specialists continued to administer treatments that helped Trae breathe and combat his pneumonia. He enjoyed receiving chest therapy from a percussion machine that respiratory therapists successfully used to remove mucus from his breathing passages. And, each respiratory therapist that saw Trae came in knowing how to help him perform his Hulk breathing technique.
The kindness and attentiveness shown by Iredell Memorial nurses were key factors for Trae to feel comfortable in the unfamiliar environment – from placing a smiley face sticker on his shirt, to delivering timely servings of ice cream, to picking up on his love of superheroes.
"Mr. Batman, do you need anything?" one of the nurses asked Trae, recognizing his favorite superhero.
"I'd say no, sometimes yes, and she would get it for me," Trae said. "It's a lot of cool things like that."
While getting medicine into his lungs, recovering from a sickness, or simply performing breathing exercises, Trae continues to breathe like the Hulk, in through his nose and out through his mouth while flexing – but without tearing his shirt or showing as much rage as the green-skinned superhero.
To Trae the inspiration of the Hulk goes beyond breathing mechanics, providing him motivation to be mentally strong.
Trae didn't know most of the nurses who cared for him before arriving at Iredell Memorial, but before leaving he felt like a member of their family. The nurses consistently checked on him during their shifts and while getting off, alleviating any discomfort and making him feel relaxed.
The procedures Trae underwent were pivotal to his pneumonia treatment and could be scary for anyone, but the community hospital's experts and specialists make Iredell Memorial the only hospital to which his parents trust him to go.
"I trust them with any of my children," BJ said. "And I'd always recommend them to anybody that's looking for any kind of healthcare, no matter what it is."
Trae's most recent hospitalization forced him to miss six days of school and part of his team's basketball season. His dad grew up participating in athletics – playing baseball, basketball, and other sports — but because heavy exercise could trigger Trae's asthma and lead to hospitalization, it was uncertain whether Trae would ever be able to play after receiving his asthma diagnosis as a young child. It was difficult for BJ to tell his son he couldn't play, but knowing expert healthcare was close by eased his parents' fears.
"When I was eight, I started my first football season, and it was fun," Trae said. "We lost a couple games, we won some, and it was fun because I get to hit people and drink a lot of water. And basketball season I was nine, it was fun too. I get to score points, reject somebody, and steal passes."
For boys like Trae, nothing can replace the joy of playing sports.
Trae is actively treating his asthma, always bringing his inhaler with him to football or basketball practice.
Wherever they go, BJ stays attentive of Trae and his breathing, making sure his son doesn't overexert himself. He keeps an inhaler in his truck and kept one in his pocket while coaching Trae's basketball team last season.
Trae knows his parents will protect him and ensure he receives optimal treatment. And despite ongoing concern about his breathing, Trae and his parents feel relief knowing that if he ever needs hospital care, he will receive it in a neighborhood hospital where he feels at home.
"Iredell is a great health system because they make me feel like a king," Trae said. "Mommy stayed with me through the whole thing, and she never left my side, and I really love that about Mommy. She's always there for me, and Daddy too."
For Trae, fall will always be football season; but it's also a time of year that's especially challenging for the young linebacker's breathing. Yet, thanks to the personalized care from Iredell Health System specialists, successful treatment, and proactivity of everyone involved, Trae can play.